The past few days have been pretty insane. There were tests, casual get togethers, family events, chores, and added responsibilities.I am still trying to catch up from being gone so long. I started this post quite some time ago, and as I continued to not quite finish it, I proceeded to make even more things to talk about.
There is only one photo from Thanksgiving. Me contemplating which dessert I want. I went with Bavarian apple tort and key lime pie. There was also the chocolate pecan pie, pumpkin pie, chocolate torte, holiday nut cake, and caramel pecan spice cake. Those items on the table weren't the only ones. Apparently there were 4 pumpkin pies, and at least 2 key lime. DSLO's family does not pussy foot around when it comes to dessert.
I finished a sock, and started the second, and finished the second, and wore it to knit night.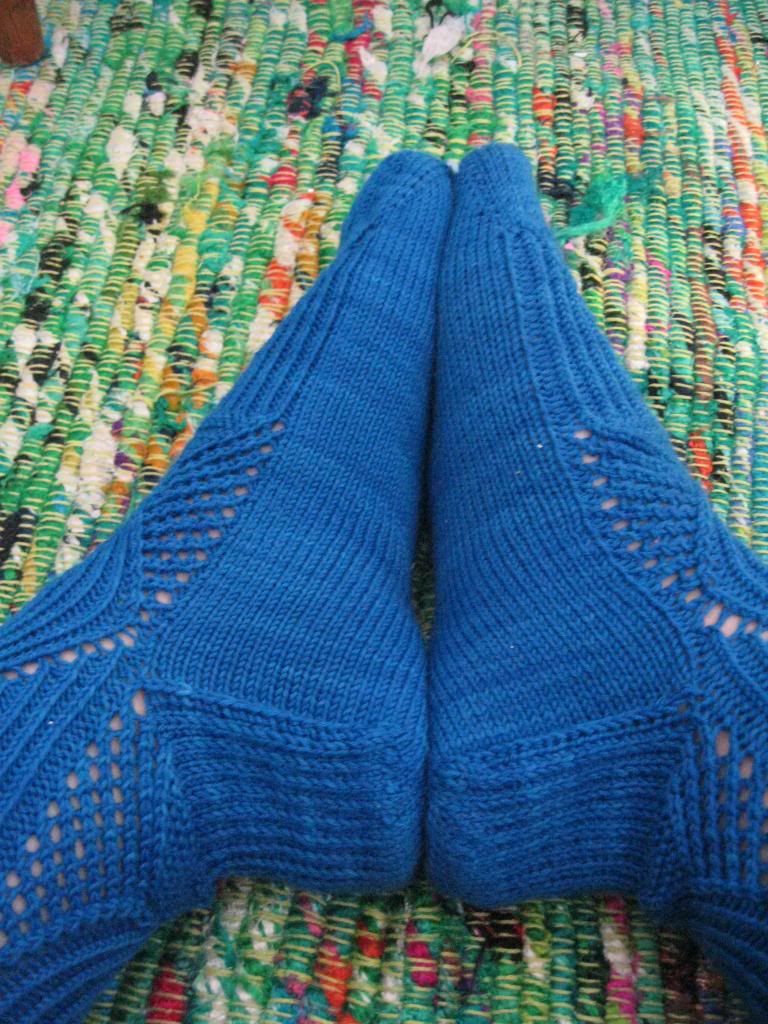 Woo hoo for a FO! I do not like toe up socks however. I much prefer matchiness at the top, than at the toes.
Hell, I don't have many complaints about the actual socks. Really I just don't like the construction. If I do this pattern again, I would do it cuff down.
The blue is pretty accurate in the photos. The color is just gorgeous. I am glad I finally got around to this skein. I got it last Christmas.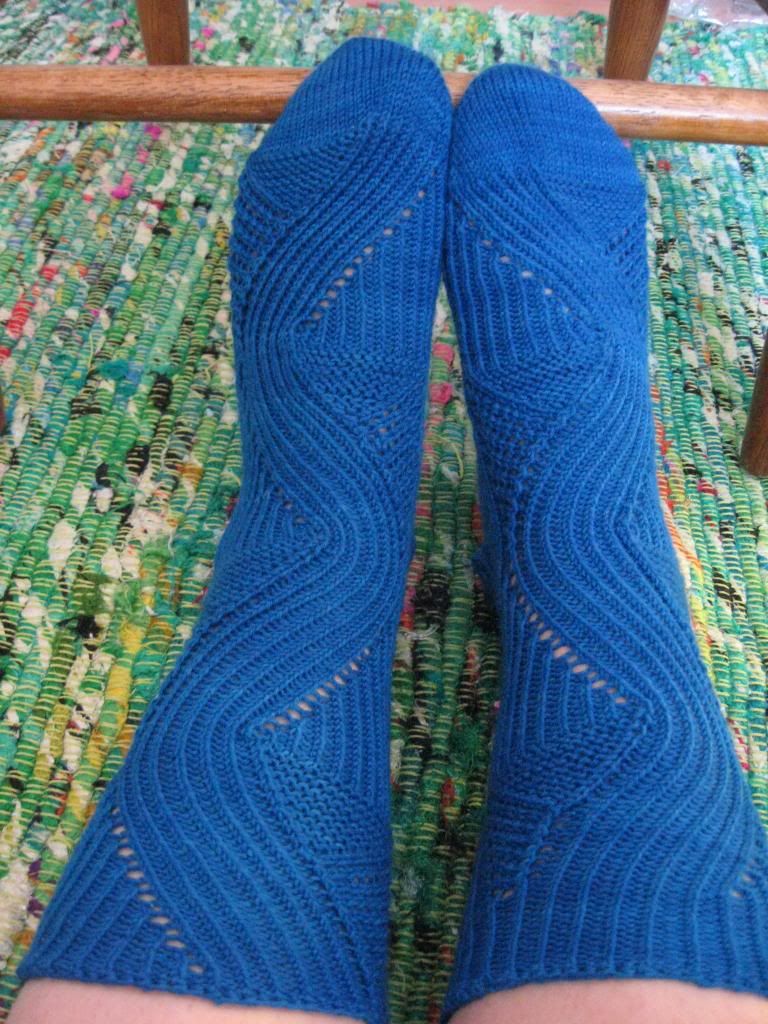 You can see in this photo what went strange. The second sock ended up longer than the first. Huh, yeah. I wasn't willing the trouble shoot where the pattern went wonky. I have and inch of ribbing on the first sock after the last repeat. I think I did one row on the second before I realized I really needed to bind off much earlier.
Grrrr. This problem never happens to me on cuff down socks.
I started a hat, though it has been strange. It is mostly aran weight, which would mean increasing to less stitches, but I am using smaller needles, and the fabric is quite solid.
Mystery solved, I needed to knit some stockinette, to ease the stretch on the disk. Increasing is not as stretchy a process as decreasing in a hat. Closed disk is stiffer than an open disk.
Then I made it too big.
Then it was still too big.
And now I am cooking!
The plan is to make it reversible. There is a pattern one direction and a different pattern in the other. Since it is double layered, this shouldn't be an issue.
Here are the things I have charted out so far. I have the Rose-Hulman R-h, and the all over pattern
direct tile of 5 unit
5 unit block
tile of 4 block subset
I ended up going with the direct tile, however, the subset tile would have been the most true to the original pattern. Really I just needed a cell that had all three colors in the row.
I am also adding in a pair of elephants from Rose Hiver's water for elephants pattern, though I will need to mod it a bit to get it to work for 3 colors. I might need some more black. We shall see. I am screwed if I need the other colors. I would rip back if that was the case and just do stripes.
I also had a lot of time to work on Evenstar.
The rows have become incredibly long. It is taking more than an hour for the rest rows now, and even longer for the patterned ones. 560 stitches per row does that to you. Looking at the chart, I am 40% of the way there with 35576 stitches completed, out out the 88776 total.
The mesh is really pretty, though at this point it is less fiddly than it is boring.
The twisted rib is interesting looking. I am not sure how much that is going to change when this is blocked. I am wondering if it is always going to pull in.
Go and check out the other cool projects for
WIP Wednesdays.
It is so much fun to be a part of it.
That's all for now, take care guys!
Molly : )